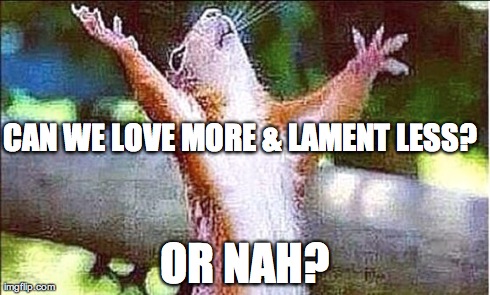 "I wouldn't wear the Victoria's Secret bra that adds two cup sizes," I say. "False advertisement."
I laughingly add there's no sense in making A minuses seem like Cs. We won't even get started on Booty Pop panties.
She chuckles and says she wants to lose weight. We joke about our appearances more. I feel closer to her. It seems she feels the same. Cool. New friend?
In hyper-contemplative weirdo fashion, I later begin unpacking the need to bond with people based on collective feelings of void. That doesn't seem right.
I share a lot; however, I'm cautious and selective about what I share. (Don't feel bad for me.) I have told a lot of people a lot about being small-busted. It seems funny. It makes people feel better. Maybe they identify with it. Maybe their sister or mom does.
Maybe they'll tell me big boobs are heavy, and they'd give me an entire one to split between both of mine if I'd make their legs longer. Maybe strangers talk to these women's cleavage, whereas my clavicles don't inspire dialogue beyond necklace compliments. Maybe I'll quote "Are You There God? It's Me, Margaret." Maybe we keep going.
Maybe their culture glamorizes a thigh gap. Maybe they should be 5'5″ with thick thighs. Maybe they want to know the sweetest taboo that keeps Sade looking better than non-Sade life forms. Maybe I just projected that onto them because Sade is forever fine.
Maybe I'll share that I wished on dandelions and fallen eyelashes for boobs and blew out birthday candles for boobs. Maybe all of this is a first world problem.
While being of modest bosom is no big deal, I've used the tidbit in problematic ways. Tidbits like this have value in a gendered social bartering system, where women bond over stuff we don't like and are not in the position to immediately change about ourselves.
We are often socialized to give compliments, downplay favorable comments our way, apologize for successes, and make our tiny issues main characters IMAX style before 3D glasses wearing voyeurs.
So, what kind of existential crisis is Imani having? I turn 25, a.k.a. good and grown, next Saturday. And despite having written New Year's resolutions, some of which I'm rocking and some of which need work, I am using this moment to continue self-work. Writing helps me manifest and keep myself in check.
No more compulsory insecurity. I gotta ease up on—although maybe not abandon—self-deprecation as a humor device or connection builder.
Conversations might become awkward. Things might seem flat (pun unintended), at first. But, chats that come from scarcity suck. Focusing on less preferred traits and speaking those preferences into the world tells people we don't have enough and, therefore, we aren't enough. I'm enough. You're enough.
Admittedly, I want to bond with people. That can mean delving into innermost feelings and uncertainties. The truth isn't always pretty, hashtag awesome, sepia-toned or newsfeed worthy. Luckily I have an answer, Sway.
I'm too grown and sexy to rely on the awkward girl shtick.
I've read too much, seen too many multi-dimensional women win, and come from too many revolutionaries to not tell flaw-focused discourses, "Go home, Roger."
This doesn't mean I'm gonna false advertise. It does mean if what's on display and ultimately discovered about me isn't a proper fit, in true itty bitty [term redacted] fashion, I'm not gonna fill in the gap.